In order to measure light you first need the mechanical hardware and optical elements to detect, mask, reflect and refract it.  At TitanLabs we are developing tools to improve the equipment that is currently available in the market through rethinking the tried and tested tools and saying we can make this better.
Indexed Multiple Slit Slider (IMSS)
Most streak cameras and spectrometers use a continuously adjustable slit. Typically, the continuously adjustable slit consists of a housing within which two blades are held in a mechanism that allows the two blades to be opened or closed with an adjustment knob.  Often there are markings on the knob that give an indication of the approximate  slit gap; however, it is difficult to know the exact size of the gap without inserting a feeler gauge.
Also, it is possible for mechanical problems to appear, for example, springs can degrade causing the slit blades to lose their parallel nature.
Another approach is a fixed slits model, however they cannot be quickly changed requiring time consuming bolt removal and installation.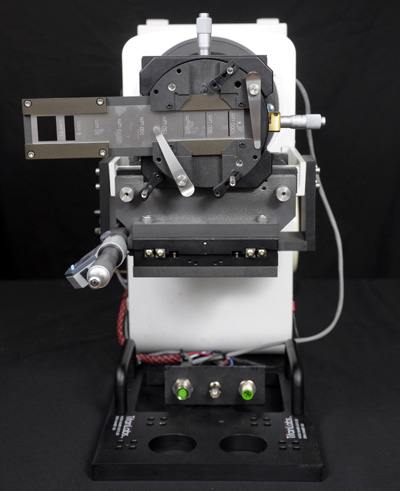 The Indexed Multiple Slit Slider (IMSS) includes a slit mask.  This mask consists of a thin metal plate with several laser cut fixed width slits and corresponding width markings.  The carrier is designed to fit snugly inside the holder/base.  The ball and socket indexing system ensures the center-line for each slit arrives at the same location in the enter of the holder/base.  The taped holes in the carer base allow for mounting resolution slides, ND's and diffuser for setup and calibration and experimental mounting hardware for  data acquisition
In addition to streak cameras, this system could be used for
Spectrometer,  x-ray pinhole cameras (replace slits with pin holes), scanning slit of panorama camera, etc.
The following products are in development.
TitanLabs Leaver Lock Post Holder – Advantages over thumb screw locking mechanism post holder:
TitanLabs Leaver Lock Post Holder – Advantages over New Focus 9601 cam lock post holder:
Other products in this category include
Address
TitanLabs
1400 Shattuck Avenue, Suite 12-124
Berkeley, CA 94709